This is what everybody is working on at the moment:
Thomas J. (Lead Programmer) "I give the bögnilim a more interesting combat behavior; now they have jump attacks and they run away when they get hurt."
Philipp (Producer, Lead Programmer) "I'm working on destructible cave entrances, so that you can trap bögnilim in one of the optional combat encounters."
Lukas (Programmer) "Performance optimization for Xbox One and PS4."
Arne (Programmer) (Just stares at me. In my head I hear a voice: 'Go. Away. Now.' He's helping out with some console features)
Rike (Producer, Director) "I put more people into this city location to make it look more crowded."
Robin (Intern, Programmer) "I optimize some things in the User-Interface."
Thomas D. (Lead Animator) "I animate the last and biggest character in the game: A golem."
Sarah (Animator) "I polish some cutscene animations."
Mailyn (Animator) "I polish some exploration animations and fix animation bugs."
Obsti (3D Artist) "I light and optimize some locations and combat arenas."
Tony (Technical Lead) "Cloth and beard simulations for cutscenes. I hate beards."
Dennis (Intern, Technical Artist) "Last cloth simulations for Tungdil. Thank god his beard is short."
Markus (Intern, Animator) "Combat animations for Tungdil with Keenfire for the very last combat in the game."
Tom (3D Artist) "I blow up a gate in a city that's overrun by orcs."
Dirk (Game designer) "I design some combats, work on the balancing and staging."
Britta (Scripter, director) "Chapter 3 staging and polishing."
Thorben (QA) "Testing."
Joel (Intern, QA) "I'm writing a walkthrough for our external testers."
Valentin (Technical Artist) "Combat effects. Lots and lots of combat effects."
Lisa (2d Artist) "I just finished the last skill-icons."
Ronja (Office Dog) (Doesn't answer my question and walks away as soon as its clear I don't have any treats for her.)
Lars (Programer) "I'm working on the redesign of the KING Art portal, so it's easier for backers to get their game."
Julian (Producer, Sound guy) "I check the last cutscene sounds and work on the special ability sounds."
Marc (Executive Producer) "Behind-the-scenes stuff for the Kickstarter rewards and shipment."
Jan (Project Lead) "I just finished writing this list for the Kickstarter update."
So you see: No way we'll be able to make an update this month.
Cover Artwork
By now all the Kickstarter rewards are in production and we're very happy with the prototypes. Today we saw the hand-crafted leather volume of "The Dwarves" for the first time and it looks and feels great! We'll show off all the items in the next (?) update. Another thing we've been working on is the cover artwork. What do you think?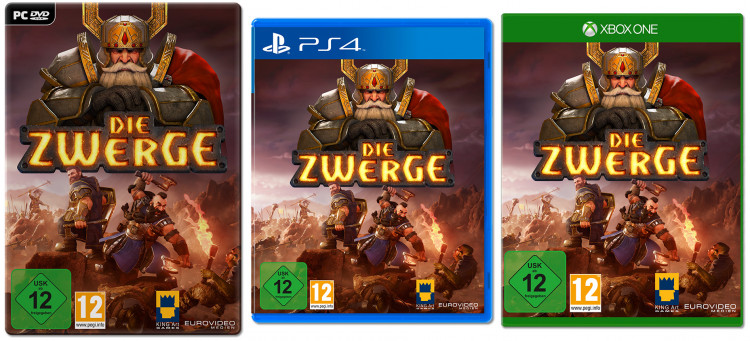 Shout Out
Kickstarter done right: The System Shock Remake
https://www.kickstarter.com/projects/1598858095/system-shock/