This is some of the stuff we made for our "The Dwarves" backers.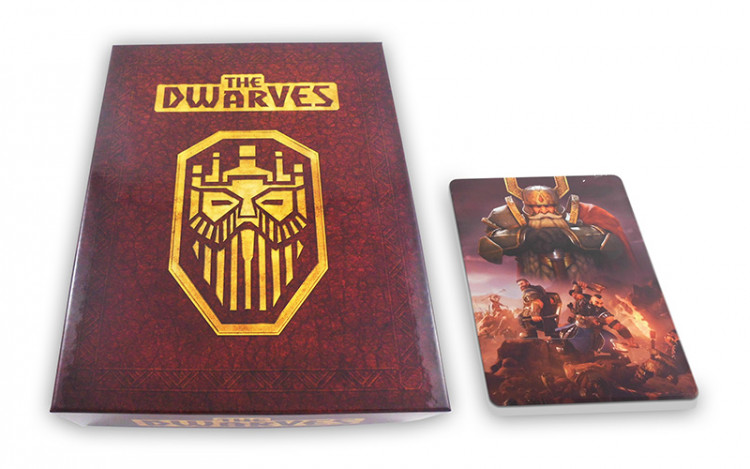 A big, beautiful box with a metal box inside.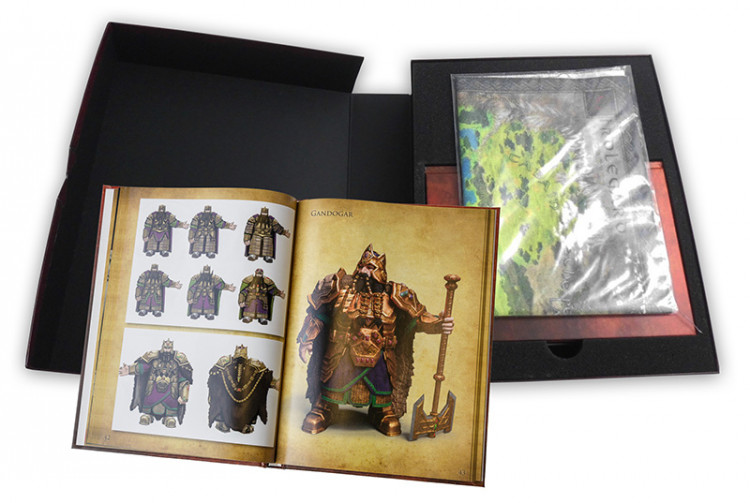 Also included: a 104-page making-of book, a cloth map, a figurine and a soundtrack CD.
Some higher pledge backers will receive steins and a hand-made, leather bound special edition of the novel with dedication by Markus Heitz. And some backers are featured in the game and will receive cool portraits. We got to meet some of you here in Bremen at our "Meet & Greet" and like the previous two times the whole Kickstarter experience has been amazing for us. Thank you!
Release Date
Our plan was to release the game end of September. And the game is ready to go. So the release date will be… December 1st.
Wait, what?!
Yes. It sounds weird, but we hope that ultimately you will support this decision. There are three reasons why we think this is the best date for the game.
When you want to release a game on consoles, it first has to be inspected by Sony or Microsoft. Since there are many games in the so-called "submission" at the moment, we didn't get a date as early as we wanted. This pushes back the earliest possible release date to October. But October and November are the busiest months in gaming. Most of the big sites, YouTubers and bloggers won't have time to play and review anything else than the big AAA games. We want "The Dwarves" to be as successful as possible; hopefully successful enough to enable us to start working on "The Dwarves 2". For that we need attention and media coverage. And we won't get that in-between all the big releases. It's un-dwarfish but we're basically chickening out and waiting until the big wave is gone.
We do a lot of testing at the moment and we're still finding some bugs and ways to enhance the balancing a little. It's mostly small things, so we could release the game and then make a launch patch. But if we put more work into the launch version, we might not need a launch patch.
Releasing the game December 1st gives us the opportunity to send out the physical rewards in advance, so for once you'll actually get your physical Kickstarter rewards at the same time everybody gets the digital version of the game.
Therefore we think December 1st is the best date for "The Dwarves" and their future. Hopefully you guys agree.
To reduce the waiting time we're going to release an updated beta version (featuring new characters, enemies, quests and battles) next week. This beta will be available for Mac & Linux as well.