Here are some of the improvements:
We have revised the combat system and added a "pause function"
We have revised the ingame user interface; it should now be significantly more clearer
You can now create savegames and we implemented auto saves.
We rudimentarily integrated all UI screens (the designs aren't final yet, but they work)
There now is loot, XP, skills and all the other good stuff :-)
You can fight a good half dozen of battles in about 6-8 hours of play time.
Linux & Mac support (BUT: We only had little time to test these versions. There might be bigger problems.) Edit: The Linux & Mac versions are still uploading (20+ GB).
Your feedback on the Alpha 1 was very valuable to us
and we think that you'll discover a lot of your input in the Alpha 2!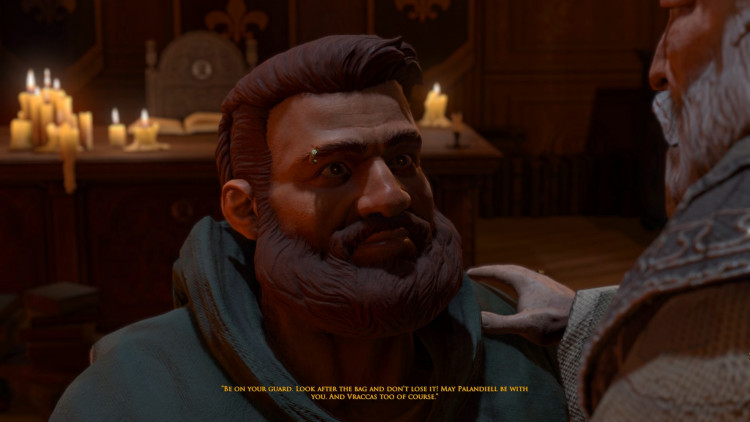 For all Alpha 2 players
Please use the
Alpha 2 forum on Steam
to give us feedback:
http://steamcommunity.com/app/403970/discussions/2/
Attention: We still have lists with To-Dos and bugs. Please don't report everything, only:
Blockers (the game can't be continued)
Your impression of the game: What do you like, what do you dislike (see Alpha 1)
Your impression of the combat system in general and of the specific battles (which one was fun, was one of them too hard, etc.)
Attention:
We would like to kindly ask you
not to publish videos of the Alpha 2 yet
. We have made a lot of changes since the Alpha 1, so we didn't have much time for polishing. We don't want people to get a wrong impression of the game, just because we share a version with you that normally nobody outside of KING Art would set eyes on.
We will polish the Alpha 2 and release an updated version before the Beta.
That one will then be approved for Let's Plays and other stuff.
Where do I get the Alpha 2?
If you have played the Alpha 1 on Steam the game will be
updated automatically
. You don't have to do anything, other than just starting the game. If you have supported us with at least $45 and
haven't played the Alpha 1
, please log in at our site. Enter the key that we sent you via email. Under "Your products" in the area "The Dwarves" you can find a link "Get your Alpha Steam Key". Click on it and copy the key. Launch Steam and select "Games" in the menu. Click on "Activate a Product on Steam" and enter the key. If you experience any problems, feel free to contact us. (There's some holidays around the corner though, so it will probably take a few days for us to reply.)
State of play & Beta
Apart from the stuff you can see in the Alpha 2 we've worked on
many other things
.
All Characters are modeled
All arenas are designed (many still have to be lighted though)
Nearly all ingame animations are laid out
All text has been written and is currently being translated (and the voices will be recorded soon)
We also took care of the
Kickstarter rewards
in the last months. For example, here's the prototype of the axe
Keenfire as a LARP weapon
: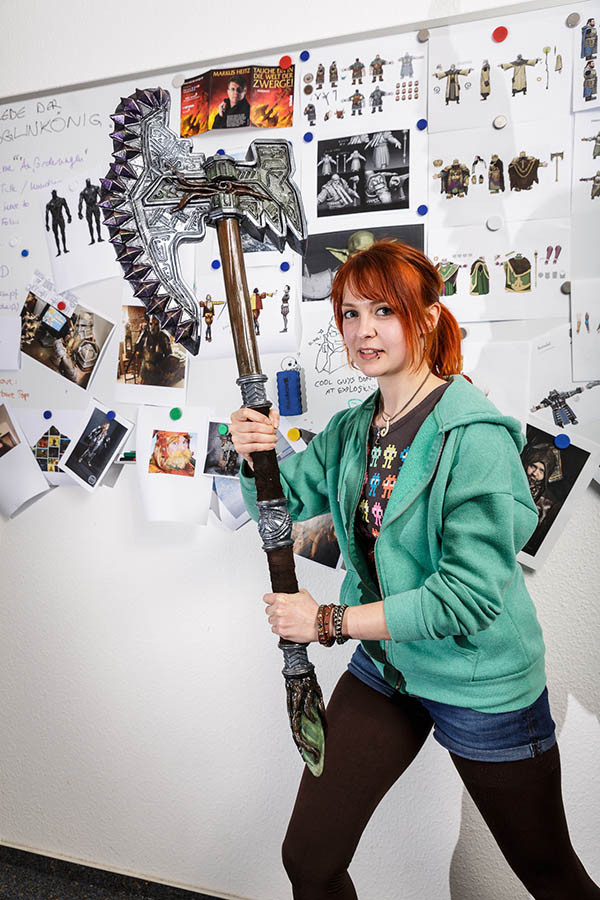 Other things on our plate for the next weeks and months are primarily:
Improvements based on the Alpha 2 feedback
"Assembling" and "staging" of all elements
Cutscenes
Testing
Polishing, Polishing, Polishing
Our plan is publishing the
first Beta in 5-6 weeks
. It will presumably contain the complete first of three chapters that we've internally divided the game into. By that time chapter 2 will undergo internal testing and we'll be in the process of finishing chapter 3.
Thanks for your help and have fun while you play!
Your Dwarves team