…but first of all: A quick look at the first 24 hours
24 hours in, we're currently at over 355.000 Dollars, which is about 80% of the funding goal. We should reach our goal today, which is super sweet!
We knew there was a huge interest in Iron Harvest, but given the fact that many declared crowdfunding dead, it's a big deal we might be able to collect over a million Dollars.
From everybody in the Iron Harvest team: THANK YOU!
Now it's important to keep the pressure up and let as many people as possible know about the Kickstarter. The math is simple: 2 or 3 percent of everybody who visits the Kickstarter site backs the game. So the question is: How do we get a couple of hundred thousand people on the page? The answer is: By doing it together and not stopping until we get there!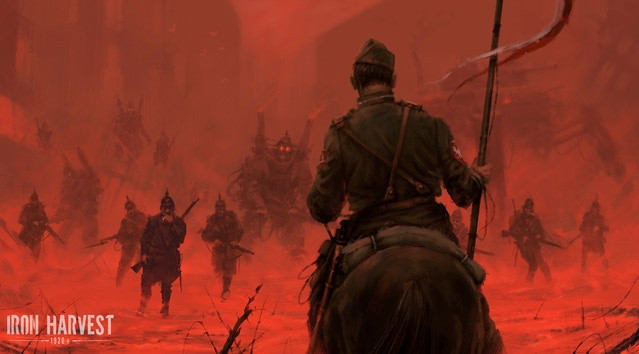 Attack!
What happens if you don't reach the stretch goal for multiplayer or skirmish?
Our goal for the Kickstarter is to keep total creative control and keep the project between you and us, for as long as possible. But that doesn't mean we're going to cut features if we don't reach the stretch goals.
As you can see in the "Budget" section of the Kickstarter page, we need additional external investments in any case. We talked to multiple publishers last year and all of them want multiplayer, skirmish and so on. So the question is not whether these features will be in the game or not, but who's going to pay for them and who has a say in how they are implemented.
So, don't worry. You will get the whole game.
Windows 7
There was confusion (including here in the office) about whether the game will run on Windows 10 only or on other versions of Windows as well. Officially, we use the term "Windows 10" everywhere, because older versions, including Windows 7, are no longer supported by Microsoft and some middle-ware providers, or their support might run out before Iron Harvest is released.
BUT Iron Harvest currently runs just fine on Windows 7 and we don't see a reason why it shouldn't do so in the future.
It's just that Microsoft and others keep talking about not supporting it anymore, so it's a somewhat uncomfortable position for us as developers. So… it IS a Windows 10 game, but it will most likely run on Windows 7, 8 and others versions as well.
More Reward Tiers for Console Versions
Many of you asked us if it's possible to buy the Battle Bag Edition or the Art Edition with a console key instead of a PC key. It wasn't… but it will be today. We'll add those editions. So check out the Kickstarter site later today if you want a cool physical edition plus a digital key for PlayStation or Xbox One.