When we launched the Kickstarter campaign, there was the dream of making a Million Dollars. It was somewhat presumptuous because it had been a while since a video game had received that level of support via crowdfunding.
Well… you did it! You believed in us and we're forever grateful. We'll pay you back by continuing to work our asses off to make Iron Harvest the best game it can be.
THANK YOU!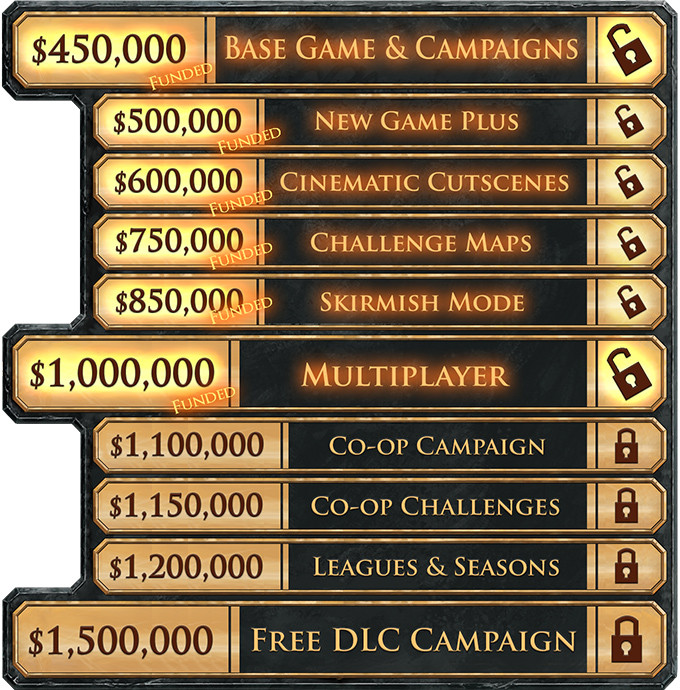 Multiplayer Goals
In the last update, we talked about our goals and philosophies when it comes to UI, controls and gameplay. The post sparked a lively discussion and you seem to enjoy it. So, to celebrate today's milestone, here are some of our goals and thoughts about multiplayer.
Anti-snowballing:

If you are behind in a game, you should have several options and a little assistance to get back on track. If you are winning, it should get harder and harder to keep the lead and close the deal. In any case, a small mistake early on should not seal you fate.

Strong incentives to finish matches:

It should be possible to quit a match honourably early on, but we want to give players little reason to do so and want to encourage them to keep playing (see "anti snowballing").

No dominant strategies:

The "usual suspects" like Turtleing/Steamrolling, Base Rush or Spamming should not work. Ideally, on each map there are multiple valid strategies and counter strategies.

Balanced factions and units:

It's great when players have to evolve their tactics and it's fine if one faction plays simpler than another. But in the end, faction/unit choice should be a question of taste/playstyle for high-end players. There shouldn't be factions that are objectively better.

Variable match duration/size:

There will be modes with short matches (~15m), but if you want, you can also play a match that lasts for an hour.

Keeping the player pool (potential opponents) as big as possible:

We will prevent fragmentation of our online community, in order to keep match making wait times as short as possible. To help with that, there will be a handicap system, where better players will have additional tasks in a match and/or weaker players will get some bonuses.

Incentives to play regularly / keep playing:

Mid- and long-term goals, seasons.

Easing in newbies:

The learning curve should not be too steep and you have to feel like you are making progress, even when you are losing. Losing should not be a reason to quit playing altogether. It's okay to lose the first couple of matches, you still learn and get stuff. Eventually, you'll win.
One of our goals is to keep matches exciting for as long as possible. If you make a mistake or are behind, it won't be a death sentence. Players won't leave matches if they think they still have a chance and even if you are ahead, you have to stay vigilant.
These are some of the systems that will help us keeping matches exciting and undecided for as long as possible:

In many maps, you'll have to conquer flag-poles to earn victory points. Naturally, the more of the three flags are in your possession, the harder it is to defend all of them.
When you hold a victory point (flag), you earn points steadily, but slowly. When you CONQUER a point from an enemy, you'll get a big one-time payment. Thus, if the enemy possesses all three victory points on a map, there is a huge potential for you to earn a lot of points quickly!
Whenever a unit dies in a multiplayer match, you'll get back some of the resource cost of this unit. The amount of the "refund" depends on your and your opponents' skill levels (handicap system), as well as on the match phase. At the beginning of a match you might get 100% back, so a lost unit "only" means lost time. Later on, you might get 50% back and at some point 0% (to ramp up the pressure and to make sure games won't take forever).
Before a match, players can spend a certain amount of points to spawn units. Based on their handicap, better players get to spend fewer points. Therefore, they are at a disadvantage and have to fight harder. Maybe there will even be an option not to spend some of these points and get more XP out of the match.
Our goal is to make multiplayer matches fun and worthwhile for each player. If you are a really good player, occasionally, you might not have enough competitors. However, instead of slaying newbies and getting nothing out of it (XP-wise), you can play a handicap match and make it harder for you (in exchange for XP). At the same time, weaker players can play against better players regularly and learn from them.
These are our thoughts regarding multiplayer at the moment.
What do you think? Also, what games are doing multiplayer leagues, ranks, seasons and so on just right and what makes them work in your opinion? Let us know in the comments.