First of all: thank you for supporting the Iron Harvest Kickstarter campaign via our shop! During the last two weeks many of you asked, if we could offer additional editions. Of course we can! But what if you have already preordered an edition via our shop?
No worries, we are now offering product upgrades!
So go ahead and
upgrade your edition of Iron Harvest now!
OK, how does it work?
Product Upgrades are only available to registered customers. So if you haven't registered yet, go to https://kingart-games.com/register and create an account.
After you completed your registration, you should see your copy of Iron Harvest listed in your library at https://kingart-games.com/library.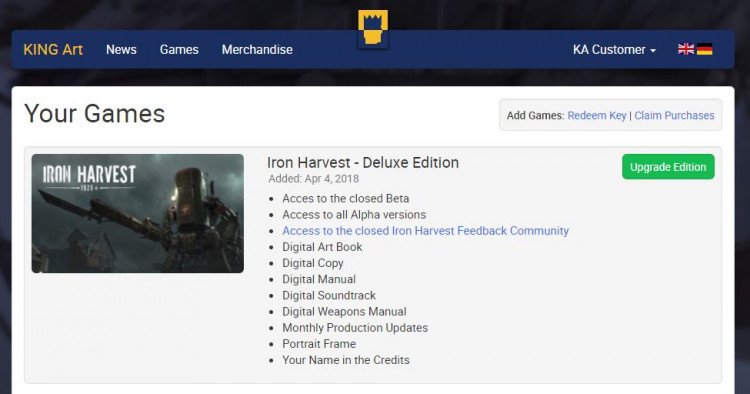 If you cannot find your game, you most likely used a different email address when placing your purchase. If that's the case, go to https://kingart-games.com/claim to transfer your purchase to your account.

How can I upgrade?
It's really simple! Just click on the green button that displays "Upgrade Edition". You will be taken to our familiar checkout form where you can select your new edition and purchase your upgrade.
Please note, that we need to charge a very small upgrade fee and that we cannot offer "downgrades" . We'll send you a confirmation email after you completed your upgrade. Your order details will also be available at https://kingart-games.com/account.